I wrote this poem a few years ago and thought I'd repost it for American Heart Month.  I was brought to tears today thinking about how well our heart baby is doing.  I'm just so thankful for all that God has taught us.  To read the whole story of my journey as a heart mom, check out my new book HERE.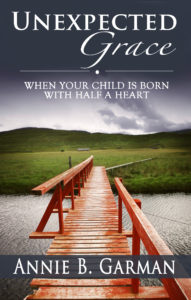 I am a heart mom.
I have felt, at a twenty-week ultrasound, floorboards cracking and giving way under my jumping, celebrating feet as the words Congratulations, it's a girl were chased away all too quickly with There is something wrong with your baby's heart.
I know the torment of wondering, wrestling, and combating a viscous voice that whispers, This is all your fault…
I know the pain of weeping in my husband's arms after a baby shower, unsure if my baby would ever wear her new, pink clothes.
I am a heart mom.
I know the fear of labor pains in a cold room, deep groanings of the unknown drawing near.
I have given birth for an audience of doctors and nurses and students and fellows.
I have watched my baby–still wet and fresh–plucked from my arms and ushered to a Neonatal Intensive Care Unit where she would be sustained.
I have sat in a NICU with brittle, four-pound lives, warm under heat lamps like delicate plants, praying over my baby.
I have guarded my heart, afraid to love something I wasn't so sure I could keep.
I am a heart mom.
I have held a baby with cords and wires and A-lines and tubes and all the while held my breath and my heart so it wouldn't scrape.
I have pumped my milk throughout the night, throughout the day, in bathroom stalls, in parking lots, in dressing rooms, in public, in private, in the heat, in the cold…wishing I could give more than all that I had.
I have said goodbye to a daughter I just met so she could be delivered to a doctor who would stop her heart…in an attempt to make it whole.
I have endured waiting rooms painted white like faces bleached with fear.
A stomach that is so nervous it feels poisonous.
The shaking. The waiting. The surgery you can't be there to control.
I am a heart mom.
I have felt the hand of a little life grab my finger and hold it…asking silently for me to lead her.
I have spent days that turn into nights on the seventh floor, all around me the Intensive Care Unit beeping and humming and pumping and upholding.
I have heard those sounds in my dreams.
I have sat in numb confusion while my baby lived…and the baby on the other side of the curtain didn't.
I have questioned God and His goodness.
I have brought a baby home–so vulnerable and trusting–with a pulse-ox machine never far and CPR training notes posted high on the bulletin board.
I have sanitized people head to toe before letting them enter my home, missed Christmas parties, dinner parties, and birthday parties in fear of the germs in attendance.
I have nurtured a bruised baby with scars in vulnerable places.
I have awoken in the middle of the night to the frantic words, "I'm taking her to the Emergency Room."
I have watched her heal and witnessed the miracle of recovery.
I have fed her her first bites of food.
Watched her take her first steps.
Say her first words.
I have leaned hard on God and He has proven Himself sturdy.
I have seen His grace.
I have tasted His love.
I am a heart mom.
And my world will never be the same.