Annie: How are you managing to stay afloat each day given the circumstances?
Lisa: The only way, I stay afloat each day is through the prayers of others. I'm not sure I could have made it this far without others telling me that they pray for Xavier and me daily! Everyday holds new struggles and craziness, but everyday, I feel like others are praying for me and I got this! My husband and I also have a great system right now that works. We both share responsibilities for the caring, feeding, and life needs that Xavier has. I could not do this alone. Having my husband help me each and every day has been a blessing. We have no other care givers for X and do everything ourselves. But thankfully we are a great team and have managed a routine quite nicely. Our younger boys too have had to step up and help or be more understanding of our new lifestyle. It's not easy at all, but we are making it one day at a time.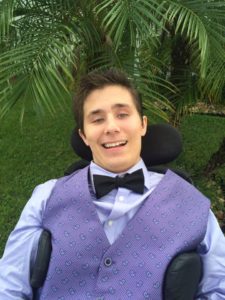 Annie: What do you want to say to those out there who are enduring their own brand of suffering or difficulty?
Lisa: One of the things we notice a lot of others who are struggling is the lack of hope and bitterness that tends to creep in. My advice would be to reject that kind of thinking. Never, ever let it take root in your mind or heart! I joined several support groups in the beginning, and it was all so sad and discouraging, I had to leave them.
Surround yourself with positive people, even if it means finding new doctors, therapists or counselors. For most people, the journey will be a long one and not an easy path. If you are a believer, you must focus on God's love, even when you can not understand His path. You need to discipline your mind, by singing songs of praise and love, by memorizing Scripture, by writing and saying daily affirmations, and by making your own personal positive growth changes. We did not choose this path of pain and suffering but we can choose how we respond and how we can keep hope and happiness alive.
Annie: How is X doing and how can we pray specifically for him today?
Lisa: Xavier is set to graduate from high school this May! He will graduate on time and with Honors, Cum Laude! We are very pleased that despite his traumatic brain injury his cognitive ability is still good.
He has been working out this year with a personal trainer and in the last month have seen a lot of progress. Xavier still can not walk or do independent functional activities on his own, but making progress with his left side of his body.
He is also still non-verbal and communicates right now only thru sign and finger movements. We would love prayer that Xavier would be able to start vocalizing with his mouth as that is his wish. But also for his willingness and ability to use a device for communication. He has motor issues that make it hard for him and he also doesn't like it. But we have been almost 2 years out now without really "hearing" his voice or thoughts. This is even more important to us than walking, which we also believe will come in time.
Prayer for the left side of his body to continue to gain strength and progress is also important. Also, I can only imagine how hard this is on X. He has had a great attitude so far, but with school ending and all his friend moving on in life, we pray that this does not discourage Xavier from continuing his fight! Thanks again for prayers, we need them in so many ways!